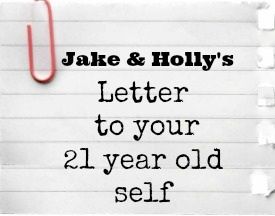 Dearest Darlingest 21 year old Caitlin,
I know it hasn't been all that long. After all, I'm only 23 now, but trust me, I have some things to say about how you have been handling your life so listen up.
First of all, congratulations on being in a foreign country to celebrate your 21st birthday. You really ought to make it something really fun though. When your choir friends tell you they want to take you clubbing, say yes. Just go. Even if you hate it, you'll regret not going. Also, why in the world didn't you go to see Phantom of the Opera in London? That was really stupid. I know you're a homebody (trust me, I am too) but you really need to get out more. Also, communicate better with John whatshisface about your composition class because it will save you over dramatic tears at the end of the semester.
Also, dearheart, do not go to North Carolina for spring break. Seriously, don't do it because you will almost ruin an awesome friendship in the process, shed a lot of tears, and spend a LOT of money to come home. I know it sounds like a great idea but trust me, you don't want to. It may be lame but go spend some time at home with your mama. You'll be very grateful later on; a storm is coming.
Do not, under any circumstances, agree to get the Hainer apartment with Chelsea, Nikki, and Meri. Don't. It will not end especially well because you are about to be under a lot of pressure. Get Meri to agree to a nice room in the Gough penthouses. Or better yet, just get a single, girl. You won't regret it, even thought it means a community bathroom (blegh). Also, embrace that you are going to have a summer roommate, despite what you asked for. It will be okay.
When you go to the rennaissance faire, wear sunscreen. You are pale, whitey mcwhiteington. You seriously need the sunscreen. Speaking of the ren faire, don't fall for short bagpipe playing boys. You will be brokenhearted.
Spend more time at home with mama. You won't regret it.
PRACTICE PIANO DAGNABBIT! YOU WILL SERIOUSLY, SERIOUSLY REGRET NOT PASSING YOUR PIANO PROFICIENCY AND WILL BE STUCK AT HOME FOR A LONG TIME. DO IT!
Most of all, honey bunny, don't worry about the little things. It will all be okay eventually.